What Can We Do For Your Agency?
If you already have an account you can click here to log in!
If you are interested in creating an account with us, give us a call at 1 (888) 697-2331 and we'll get you setup. Alternatively, you can click here to sign up for FREE online!
Feature Comparison Chart
Feature
Little Guys
Big Guys
My Safe Home Inspection
Coverage
Local Only
State-wide
State-wide
Speed
Varies
Slow
24-48 Hour Turnaround
Technology
Pen + Paper
Cumbersome + Difficult
Simple + Powerful
Experience
Varies
Varies
Great
Mobile Access
No
Varies
Yes!
Data Accuracy
Poor
Varies
3rd Party Quality Control
Support
Poor
Fair
Great
Service Quality
Varies
Varies
Great
FREE Marketing
No
No
Yes!
Sign Up Today!
Click here to watch a video
Easily Add Inspection Requests!
After logging in you'll be directed right to a secure inspection request page exclusively for your Agency.
Request multiple inspection types for one homeowner at the same time.
If you provide an email address for the homeowner he will be updated on the inspection progress.
Simple form design makes it easy to tab through fields to submit the request quickly.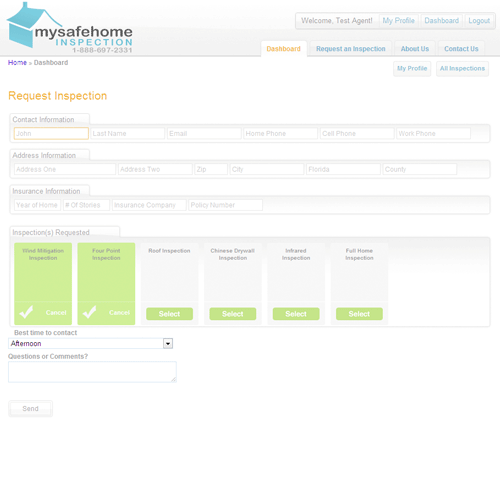 Quality Assurance Helps Keep Us The Best Inspection Business In Florida!
Quality Assurance meticulously goes through each inspection to ensure the validity and readability of the inspection report.
Our system helps prevent human error by streamlining the interface for inspectors.
When Quality Assurance has verified the inspection report, the report will be sent by email instantly.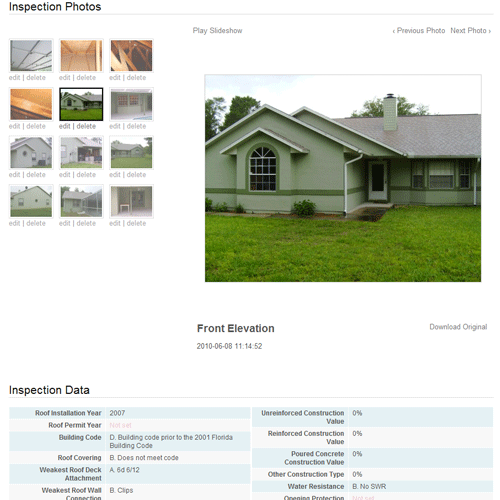 Be Notified As Soon As Your Inspection Report Is Available!
Log in and see all of your requested inspections and their current states.
Download your completed inspection reports anytime you want from anywhere.
Inspections have a message system to keep an open line of communication and support.
Homeowners are updated via email or phone when an inspection has been scheduled.